The Sanctuary UK are Half-Life² Deathmatch games servers are based in the United Kingdom. The Sanctuary UK [S-UK] clan was first established in 2001 as a server for Half-Life One Deathmatch (HLDM). We stopped supporting HL1 in early 2006.
If you need more of an adrenaline fix than the standard Half-Life² Deathmatch can offer, then we also host a Adrenaline Gamer 2 server which provides an experience closer to the original HLDM game, with faster movement, Jump Suits, and weapons such as the Gauss, and Gluon. Server Details are shown below.

The philosophy on our servers are, not to take it too seriously, and the emphasis is on FUN. Arrogance and gloating are not redeeming features. Remember, it's only a silly game. If that is not your outlook on the game of Half-Life², then we would rather you moved on, to a server where they like continual bickering and arguing. Several regular users of the servers asked if we could have a clan, so all in good fun we now have the clan tag of [S-UK] and to see a list of those brave enough to want to bear that tag in front of their name, click on the members button.
Anyone who would like to join our clan is welcome, as long as you are mature enough to understand that when you wear our TAG, you represent our CLAN. This means that when you are playing on our servers, or on others, you are an ambassador for our clan, and you are expected to treat people with respect. You are expected to mind the rules of the server that you are playing on. You are expected to be friendly, and have a minimum understanding of English.
STATS & FORUM
Please check our forum for news and updates about the games servers. To join the forum press the button above. New members will need to register before they are able to post.
(Please be aware that certain parts of this forum can contain subjects of an adult nature). You can talk about any subject you like, (it doesn't have to be just about Half-Life), meet some friendly, interesting people, and have some fun.
There are NO official stats on any of our servers. The HL2 Deathmatch Consortium do monitor our servers, and you can view the last seven days activity by clicking on the Stats button above.
MATCH CHALLENGES
If any other clans would like to challenge our team players to a match, please click on the following link button to fill out an application form with all your details, and we will get back to you as soon as possible with any mutually agreed arrangements.
Running these servers is an expensive operation,
If you would like to contribute to the running of the servers, please click on the button below to make a donation, thank you.
The Sanctuary UK 1 - Custom Maps Only (Normal Play) Server 109.70.148.190:27015

The Sanctuary UK 2 - Castle & Roman Sanctuary Only Server (Fun) 109.70.148.190:27016

The Sanctuary UK 3 - Killbox - No Sanctuary (No Rules) Server 109.70.148.190:27017

The Sanctuary UK 4 - Clan Match & Clan Training Server 109.70.148.190:27018

The Sanctuary UK 5 - Arena & Last Team Standing Server 109.70.148.190:27019

The Sanctuary UK 6 - Darkspooktin Server (Normal Play) 109.70.148.190:27025

The Sanctuary UK 8 - Map Development & TestingServer 109.70.148.190:27026
Note:
A working headset with microphone and the Teamspeak 3 Client are a server requirement on The Sanctuary UK 5 - Arena & Last Team Standing Server
For more information about the servers and map cycles, please visit our forums



To Bookmark our servers, just type the following into your add server list in STEAM: sanctuaryuk.sytes.net then press the button that says find games at this address.
It will list all of our servers, which you can then choose which one, or all of them, to add to your favourites list. Both the Arena server and the Adrenaline Gamer 2 server
require you to have the Adrenaline Gamer 2 Mod installed, and is available from here: Adrenaline Gamer 2

All servers will be re-booted once in every 24Hrs at approx 0600Hrs British Time
(times are subject to change at the admins discretion, and without notice)

Join The Sanctuary UK SETI@home team to search for Extra Terrestrials


The SERVERS are owned and run by: Electric Warrior (Mick) who incidentally is crap at this game! :)

The Admin Team are listed on the MEMBERS page.
Server Information: The games server is co-located for us by Gaming Deluxe Servers, in Saxon Datacentre, Cheltenham, Gloucestershire, England.
If anyone wanted to run their own games server, I would highly recommend they try Gaming Deluxe Servers, as they have
very reasonable prices, and support that is second to none. They can't do enough for you. The staff, being gamers
themselves, know exactly what is needed to help server owners. http://www.gamingdeluxe.co.uk Gaming -
Deluxe have been operating as a Game Service Provider for several years and have grown to become one of the leading
hosts in the United Kingdom. They are one of very few companies that have their own network infrastructure, using two
Gigabit Foundry routers to make sure all gamers have fantastic pings and latency. They are well known in the community
for having first rate support on a 1 to 1 basis, all staff have MSN, Xfire and IRC so that you can talk to them if you have problems.


1u rack Dell PowerEdge R200 Intel(R) X3210 Xeon(R) 2.13 Ghz Core 2 Quad Processor 4Gb DDR RAM 2 x 75GB Raptor HDD
Linux Debian Release 7.2 (wheezy) 64 bit
HL2DM srcds Version 1.0.0.34 protocol version 22 build 5056 (Sep 10th 2012)
MetaMod:Source 1.10.0V
Matties Eventscripts 2.1.1.0 by Mattie
SourceMod 1.5.1 dev by AlliedModders
SourceBans 1.4.9 by SteamFriends Development Team
Stripper 1.2.2 by BAILOPAN
Spawn/Chat Protection Version 3.3.4 beta 1 by Bernt Nilsson (To see how this works go here)
VAC2 (Valve Anti-Cheat)
SMAC (Source Mod Anti-Cheat) Version 0.8.04
Last Connected 0.18 by devicenull
Say Sound Eventscript by Superhebbe
TeamSpeak 3 (For more information on this go here)

Server has a Swear Filter, Map Countdown, Spawn & Chat Protection, Auto Response Messages, Map Voting, First Kill, Quake Sounds and Announcement Messages.

The Sanctuary maps are made by Electric Warrior (Mick) and Captain Hornet (David), and we have some other guest maps too.
If you don't like any of the maps on our server, please don't whine, find another server.
Mick uses HLSW v1.3.3.7b for remote monitoring of the servers from his home in Portslade, East Sussex, which is on the south coast of England.
Free Web Counter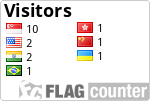 Free JavaScripts provided
by The JavaScript Source